Golden Damaged Crate
Golden Damaged Crate is a destructible object in Scrap Mechanic.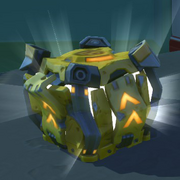 The Golden Damaged Crate is a golden version of the standard Damaged Crate. It can be found in the loot room of Warehouses, in the Ruin City, or rarely in the wilderness and in Ruins.
Each Damaged Crate that spawns out in the open has a 2% chance to become a Golden Damaged Crate.
Golden Damaged Crates will sometimes spawn on the roof or uppermost floors of Ruins, most commonly in taller Ruins and other tall structures.
All Golden Damaged Crates drop 3 items. First, an item from "Select One" is chosen, occupying one slot. The two remaining slots are chosen from "Random Loot".
The Random Loot of Golden Damaged Crates is mostly the same as the standard Damaged Crate, with a few additional items and increased quantities.
Select One
Random Loot
Golden Damaged Crates in Warehouses always drop one of the following level 3 Interactive Parts as its Select One. Its Random Loot is identical to the standard Damaged Crate warehouse Random Loot.
Select One
Random Loot
0.4.0

Added Golden Damaged Crate.