Line 4:
Line 4:
 
 
 

Scrap Mechanic is an creative sandbox game, starting it's Alpha state of development in October of 2014. Currently in a state of early development striving to be a game where you explore, scavenge and collect objects from all over a wide-open interactive world. With these gathered objects you can build shelters, impressive moving [[vehicles]], and machines that will help you survive all the treacherous adventures ahead of you. Team up with friends or fight against [[Farmbots|robots]] and other players who want to steal your stuff.

 

Scrap Mechanic is an creative sandbox game, starting it's Alpha state of development in October of 2014. Currently in a state of early development striving to be a game where you explore, scavenge and collect objects from all over a wide-open interactive world. With these gathered objects you can build shelters, impressive moving [[vehicles]], and machines that will help you survive all the treacherous adventures ahead of you. Team up with friends or fight against [[Farmbots|robots]] and other players who want to steal your stuff.

−
 
⚫
 
⚫
 
 
 
 

== Story ==

 

== Story ==

 

You play a robot maintenance mechanic, who has been sent to a fully automated agriculture planet that supplies food to the metropolitan planets with the task of looking after the worker robots. Close to touchdown your spacecraft loses control and crashes, leaving you as a survivor. You're stranded though, and at first glance you find that not everything's quite as it should be. The [[Farmbots]] working the fields have become hostile. It is your goal to stay alive: using your quick thinking, creativity, and the environment to your advantage.

 

You play a robot maintenance mechanic, who has been sent to a fully automated agriculture planet that supplies food to the metropolitan planets with the task of looking after the worker robots. Close to touchdown your spacecraft loses control and crashes, leaving you as a survivor. You're stranded though, and at first glance you find that not everything's quite as it should be. The [[Farmbots]] working the fields have become hostile. It is your goal to stay alive: using your quick thinking, creativity, and the environment to your advantage.

 
+
 
⚫
 
⚫
 

[[Category:Scrap Mechanic Wiki]]

 

[[Category:Scrap Mechanic Wiki]]
---
Revision as of 20:59, 3 September 2016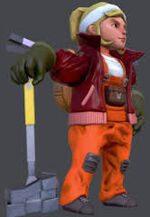 Welcome to the machine-filled creative paradise of Scrap Mechanic, a multiplayer survival game with imagination and ingenuity at its core.
Scrap Mechanic is an creative sandbox game, starting it's Alpha state of development in October of 2014. Currently in a state of early development striving to be a game where you explore, scavenge and collect objects from all over a wide-open interactive world. With these gathered objects you can build shelters, impressive moving vehicles, and machines that will help you survive all the treacherous adventures ahead of you. Team up with friends or fight against robots and other players who want to steal your stuff.
Story
You play a robot maintenance mechanic, who has been sent to a fully automated agriculture planet that supplies food to the metropolitan planets with the task of looking after the worker robots. Close to touchdown your spacecraft loses control and crashes, leaving you as a survivor. You're stranded though, and at first glance you find that not everything's quite as it should be. The Farmbots working the fields have become hostile. It is your goal to stay alive: using your quick thinking, creativity, and the environment to your advantage.
Development History
(please insert)