Small Support Structure
Small Support Structure

Overview
Category
Parts
Weight

Durability

Friction

Buoyancy

Flammable
No
Support Structure is an item in Scrap Mechanic.
A basic part. It is 4*4*1 in size, as seen in the image.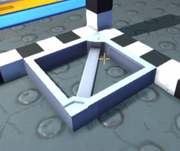 The Small Support Structure was named "Warehouse Fuse Box" when it was added. This seems to have been a mistake, as it never visually resembled a fuse box.

It is possible that the name comes from a removed part that had the same UUID as the one that the Small Support Structure now uses.