Small Support Structure

Overview
Category
Parts
Weight

Durability

Friction

Buoyancy

Flammable
No
Support Structure is an item in Scrap Mechanic.
Overview
[
]
A basic decorational part. It is 4*4*1 blocks in size, making it the smallest Support Structure. The Support Structure is twice the size, and the Large Support Structure is four times the size, as shown in the image below.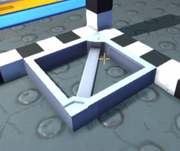 Trivia
[
]
Small Support Structure is currently the only new part in the inventory that has been properly sorted to the "Pre-Survival" section of the inventory.
The Small Support Structure was named "Warehouse Fuse Box" when it was added. This seems to have been a mistake, as it never visually resembled a fuse box.

It is possible that the name comes from a removed part that had the same UUID as the one that the Small Support Structure now uses. There is a Fuse Box in the game, but it was never named "Warehouse Fuse Box".
History
[
]
Beta
[
]