Support Structure

Overview
Category
Parts
Weight

Durability

Friction

Buoyancy

Flammable
No
Support Structure is an item in Scrap Mechanic.
Overview
[
]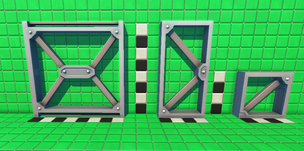 A basic decorational part. It is 8*4*1 blocks large, and has a larger and smaller variant. The Large Support Structure is twice the size, and the Small Support Structure is half the size.
You cannot obtain this item in Survival Mode without the use of mods or Dev Mode.
History
[
]
Alpha
[
]